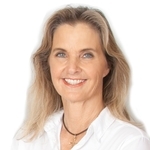 940-549-1111
940-779-2853 fax
940-328-5528 cell phone

v@possumkingdom.com
20115 FM 1148
Graham Texas, 76450
Receive Email Alerts from Me
Vee began her real estate career in a much more competitive market of Central Florida where she earned recognition by the Central Florida Home Builders Association as their Top Producer in new construction sales in 1993; she set a national record with one of the ten largest builders in the nation.
In 1995, Vee and her husband Keith opened a real estate office on the West side of Possum Kingdom Lake. The next year the Hanssen's purchased Possum Kingdom Real Estate (PKRE®) Vee! has been both the sponsoring Broker and Marketing Director for the company for 22 successful years.
In 2008 because of demand for surrounding recreational land and ranches, PKRE® opened a land office. Vee attend Accredited Land Consultant courses and participate in the networking opportunities of the Realtors Land Institute.
With a strong target market in both upscale luxury markets as well as second home resort markets PKRE® integrated into LuxuryRealEstate.com; this network of Realtors have been qualified to list and sell in the top 10 percent of their respective markets and demonstrate expertise in the marketing and sale of multi-million dollar properties. They only select the very best in their respective markets. September 2016 PKRE® was determined to have the proven sales history to be included in "THE WHO'S WHO OF LUXURY REAL ESTATE."
Today Vee and her family operate a cattle ranch on the Westside of Possum Kingdom. Vee serves the lake community as certified EMT volunteer.
RECOMMENDATONS
Contacted Vee about selling my dad's lake house. This was very difficult for me to do because of all the memories but since he's been gone we did not use it. Pricing was difficult because we thought it was worth more but Vee was  brutally honest and showed us what it was worth these days.  Vee   helped us decide what repairs were needed.  Once it was ready Vee had it professionally photographed including drone shots. After it went up for sale we received email reports twice monthly showing where all It was being advertised all over the internet along with a comparison of performance to other properties. The cabin was shown often and Vee kept in touch. It sold within a few months and the process was trouble free. Debbierobo Possum Kingdom Lake
Vee listed our place on PK but another Realtor from Dallas area was the buyer agent who knew very little about PK. Vee ended up helping that agent a lot to make the deal work. We were impressed that she would be that cooperative, She handeled all the details which included inspection and appraisal   issues. Cant thank her enough. Good job gal! jackhomes81 Possum Kingdom Lake

Vee listed our lake place on Westside of PK and one of her teammates found us a buyer in under 60 days. That's pretty good considering we had been trying to get it sold for two years. She used a different approach to marketing it that worked. Vee stays in touch and is now our friend. Flyjodystevens Possum Kingdom Lake